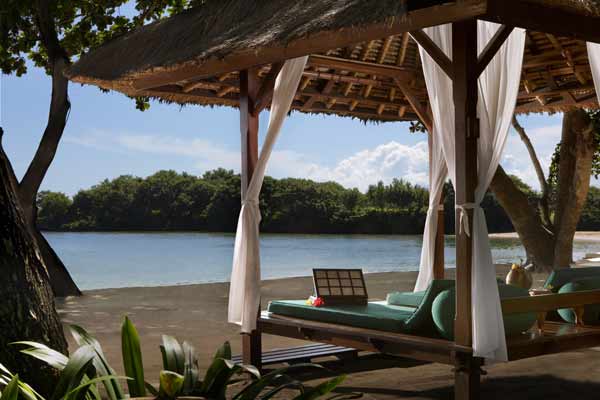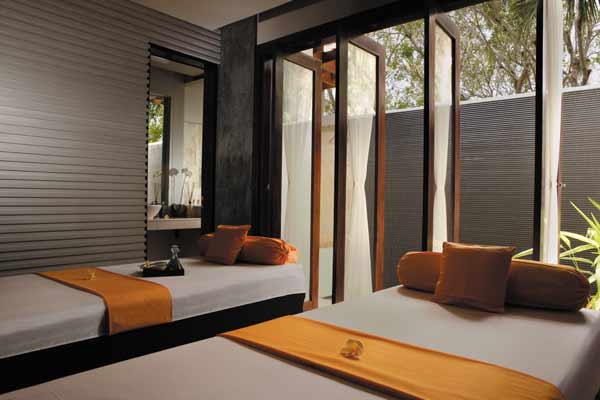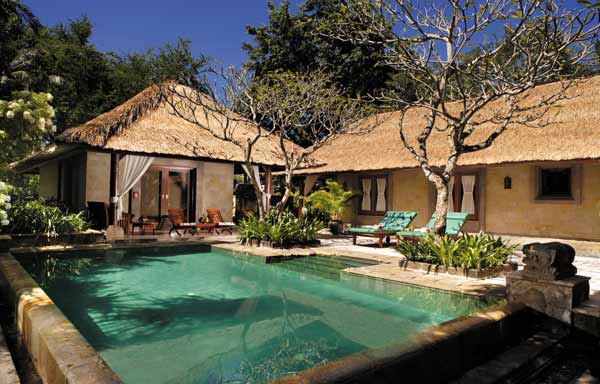 In the early 1980s, then-President Suharto, his wife, and Minister of Tourism Joop Ave made an state visit to Spain. During this trip, Minister Ave met with Gabriel Escarrer and the two discussed the potential for the Meliá Group to open a resort in the up- and- coming area of Nusa Dua. Around the same time, Indonesian investor William Suriadjaja was interested to develop a resort in the neighboring islands of Nusa Kecil and Nusa Gede, but was refused by the BTDC as the islands were considered sacred by the Balinese. Until today, there has been no development on these islands.
The resort's 124 Melia Guestroom are available exclusively at the ground level, with total space of 42 sqm featuring spacious patios and terraces especially angled to capture vistas of the resort's lush tropical gardens. Equipped with 32-Inch LCD TVs and richly polished furniture and a warm, contemporary atmosphere. 177 Premium Room Garden View rooms category available to enhance our guests' comfort and enjoyment. All the rooms feature contemporary tropical décor with canopied beds, gleaming tropical wood floors and sleek furnishings, Equipped with 32-Inch LCD TVs. Following the last project in 2011, the selections of walk-in shower or bathtub were included. Also the Meliá 74 Family Rooms, a redesign of the previous Junior Suites category. Each of the rooms features a master bedroom and a lower level for children. The marble foyer flows into the lower-level children's room, which is fitted with twin and sliding beds. The 37-inch LCD TVs entertainment system includes on-request Play station II equipment to keep the youngsters amused. Located in Buildings II, III and IV, the spacious patio of each Family Room is angled to capture the resort's beautiful tropical gardens. Each of the 124 Contemporary Balinese-style Melia Guestrooms, 177 Premium Rooms, 74 Family Rooms, 63 Lagoon Access Rooms, 36 The Level Junior Suites, 9 Deluxe & Family Suites, 1 Executive Suite and 10 Garden Villas provide a balcony or terrace overlooking the gardens. Each level offers a different experience of the resort.
THE LEVEL is an exclusive privileged, offering a pampered and uniquely warm experience to discriminating travelers and honeymooners. Guests in THE LEVEL will enjoy many privileges, starting with a welcome drink, fresh fruit and flowers in the room on arrival. They will start their morning with breakfast at Sorrento, El Patio Restaurant or in their suite with Room Service, and then pass the day relaxing at THE LEVEL Lounge. Of course free unlimited internet access is available 24 hours a day. Guests will enjoy exclusive check in & check out at THE LEVEL Lounge, complimentary laundry for up to two pieces per guest daily, complimentary aperitif time at The Level Lounge Espresso coffee machine in the room and access to Villa Pool with tea time & Villa Beach.Every conceivable comfort is perfectly delivered to the smallest detail. Altogether, THE LEVEL is a perfect choice for honeymooners.
Meliá Bali is pleased to announce the opening of its new arrival and departure lounge for the convenience of our guests. International travel can be tiring. We understand that our guests need a pleasant place to rest while waiting to check in to their room or after check out while waiting for their flights. For your comfort and convenience, we have established a complimentary arrival and departure lounge located at ground level with direct access to the fitness center. This comfortably furnished, air conditioned lounge overlooks the resort gardens. The spacious lounge features bathroom facilities including locker, changing area and showers, fresh towels and hairdryer, music, 40-inch LCD TV, games, Wi-Fi internet access, an assortment of books, magazines and newspapers. The lounge is open daily from 12.00 noon until the last departure from the resort.
Complimentary tea, coffee and juice service is always available and afternoon tea and cookies are also served. A special menu, snack menu and bar list can be requested (these items are charged). Clients using the lounge are still classified as guests of the resort until their actual departure. Therefore they continue to have access to all the resort facilities including restaurants, bar, swimming pool and spa.
Meliá Bali of Meliá Hotels International Group constantly strives to improve its already excellent amenities, well-appointed surroundings and outstanding service. The first hotel in Asia to be given the distinction of much-coveted EarthCheck Platinum Certification and one of only fourteen hotels in the world, adhere to the highest environmental standards over a period of 10 years.
Located on the shores of Nusa Dua, Bali's prestigious resort enclave, this beachfront resort offers the All Inclusive Package selection for those who seek an easiest vacation. There is something for everyone, and the fun is included! With All Inclusive, you never have to worry about tips, what activities to do or who's paying for dinner. When booked with Meliá Bali All Inclusive, all meals, drinks, activities, non-motorized water sport and tips are included. Guests have travelled this far and during their vacations they deserve to devote themselves to enjoying it all.
Meliá Bali of Meliá Hotels International Group constantly strives to improve its already excellent amenities, well-appointed surroundings and outstanding service. In the first quarter of 2012, the Resort is proud to announce the completion of expanding Sateria Restaurant Area. The additional extension area beside the beach provides the open air place offer an authentic pizza, sandwiches and snacks, fresh fish and prime cuts of meat for lunch and dinner.
Nowadays this Restaurant become one of the most favorite place for our guests for having their lunch and dinner while their spend holiday to enjoy a great view from the deck. The Meliá Bali offers a culinary journey, with several theme restaurants and bars that allow guests to enjoy a unique and extensive culinary experience; five Restaurants options and three bars to satisfy even the most discerning tastes. From Sakura a Japanese Restaurant, which has its own sushi bar and teppanyaki tables, to the delicious Sorrento Mediterranean cuisine serving paellas and seafood dishes at the Sateria by the beach, as well as our own versions of Asian cuisine at the Lotus Restaurant, while the International Coffee Shop available 24 hours.
At Sorrento Mediterranean Restaurant, the dining venue serves Mediterranean cuisine in an intimate atmosphere with a wide selection of wines. Guests may choose to dine inside or outside in the garden facing the lotus ponds and bougainvillea. The resort's authentic Sakura Japanese Restaurant offers the freshest sashimi and sushi, a sumptuous teppanyaki set menu as well as an a la carte menu. Located on the same level of the Main Lobby guests could enjoy the views, the tatami rooms are available for those who prefer privacy. Lotus Asian Garden Restaurant provides seating for 74 in a relaxed setting with traditional Balinese pavilion architecture and alang-alang thatched roof. The restaurant offers an a la carte menu from across Asia, highlighting a different cuisine daily as a unique taste from the Spice Islands. Enjoy the smell of fresh breeze, the sound of waves and seabirds underneath the tropical sky at Sateria Beachside Restaurant. Experience having lunch or dinner above the sea on Sateria's new deck. Relax and refresh at the beachside pizzeria. Culinary Experience at Meliá Bali is when the authentic flavor of Spain entwined with genuine Balinese hospitality.
美利亚酒店集团与印尼的渊源可追溯到1980年初,集团高层与时任的印尼总统Suharto在西班牙首次会面后商谈了在努沙杜瓦建造度假村酒店的相关事宜。1983年,美利亚酒店集团与印尼投资人Suriadjaja先生确定了巴厘岛Sol酒店的发展计划,并于1985年12月2日正式由印尼前总统Suharto和他的夫人一起出席开幕仪式,正式揭开了酒店的序幕。而当年,巴厘岛Sol酒店(后改名"巴厘岛美利亚酒店")成为了努沙杜瓦(Nusa Dua)唯一一个拥有国际背景的度假村酒店。
巴厘岛美利亚酒店拥有124套标准客房,全部位于一楼,享有非常具有优势的地理位置。每间套房面积42平方米,配有宽敞的庭院和露台,并与酒店内的热带花园一起构成了完美和谐的居住空间。此外,房间内还配有32寸LCD电视机、富丽明亮的家具,营造着温馨、现代的氛围。另外,酒店里177套豪华园景房融合了兼具现代风格及热带风情的装饰,带给客人舒适而愉悦的入住体验。房间的家具陈设井然有序——带顶篷的舒适大床、锃亮的热带木质地板和32寸LCD电视机。2011年的酒店客房改造计划实施后,酒店为客人添置了更加舒适的步入式淋浴和浴缸等。酒店还提供74套家庭套房,家庭套房的设计从先前的小型套房汲取灵感。改造后的复式家庭套房设有一间主卧房和一间较低层的儿童房。大理石门厅一直延伸至儿童房——房间内配有双人床和滑轮床。每间套房还置备了40寸液晶电视、娱乐设施和Play Station II 游戏机,供孩子们尽情玩乐。此外,居住于二、三和四号楼的宾客还能享有一个宽敞的、能够俯瞰花园的私人露台。酒店总共有124套兼具现代感和当地风格的标准客房,177套豪华园景房,74套家庭套房,63套临湖套房,36套The Level标准套房,9套The Level豪华家庭套房,1套行政套房和10套花园别墅。所有套房都提供能够俯瞰花园的私人阳台。因此,每一楼层的房间都能带给客人不同的住宿体验。
巴厘岛美利亚酒店的The Level是一项专门针对VIP宾客的尊享服务,专为酒店VIP宾客提供个性化的入住体验,如:前往巴厘岛度蜜月的宾客可享受酒店特别提供的蜜月套餐。入住The Level的宾客能够体验许多特别定制的服务,如到达日当天的欢迎饮料,新鲜水果和鲜花等。宾客不仅可以在Sorrento或者EL Patio餐厅使用早餐,还可以选择客房送餐服务。在The Level行政酒廊内,宾客可悠闲轻松地享受一天的美好时光。The Level的其他定制化服务包括:24小时全天候免费网络连接,便捷的入住和退房服务,免费干洗服务(每人每日限两件物品),免费开胃酒的供应和房间内Espresso咖啡机的使用等。除此之外,宾客还可在配有私人沙滩的别墅泳池享受美好的下午茶时光。酒店为宾客提供完美的入住体验,并将每个细节做到尽善尽美。 对于前往巴厘岛度蜜月的宾客而言,The Level尊享服务无疑是一个绝佳的选择。
2009年10月,巴厘岛美利亚酒店宣布了全新迎宾酒廊的开幕。据调查,长期旅行会给客人带来极强的疲劳感。基于此,酒店专为提前抵达或延迟退房的旅客提供了一处温馨之所,稍事休息。在一楼通往健身中心的区域,专设了免费迎宾酒廊——旅客在这里能享用酒店提供的设施服务。宽敞明亮的休息室配备了全套家具,空调和整套洗浴设施,包括:带锁储物柜,更衣室,淋浴,毛巾、吹风机、音乐设备、40寸LCD电视机、游戏机、WiFi网络连接和各式书籍、杂志和报纸等。接待酒廊开放的时间从每日中午12点起至最后一位旅客离开酒店为止。休息室里,除有不间断供应的茶、咖啡和橙汁之外,旅客也能享用下午茶和点心 。酒店还为旅客提供定制菜单、小吃及酒水饮料菜单。因此,即使是提前抵达或延迟离开酒店的旅客仍可继续享用酒店内的所有设施服务,包括餐厅、酒吧、游泳池和水疗中心等。
十余年来,美利亚酒店集团不懈地致力于更好地完善巴厘岛美利亚酒店现有的完美设施,致力将其优美的周边环境及出色的服务标准推向一个新的高度。 巴厘岛美利亚酒店一直将绿色环保作为酒店发展的重要考量因素,近十年来,酒店以极高的标准维护本身及其周边环境,因此受到地球评分白金认证(EarthCheck Platinum Certification)的青睐,成为全球获得此殊荣的14家酒店之一,同时也是第一家被授予此证书的亚洲酒店。
巴厘岛美利亚酒店位于努沙杜瓦海岸,是巴厘岛上最具声望的私密度假村酒店。作为一家沿海度假村,酒店为追求轻松假期的旅客提供一站式尊享服务——为每一位入住酒店的旅客提供完全定制化的度假行程。专业、贴心的定制化服务体现在酒店入住的每一个细节,包括定制所有的度假活动、餐饮以及其他风俗礼仪相关活动等。自宾客预定巴厘岛美利亚酒店起,所有餐饮、行程、水上娱乐、运动及其他繁琐事宜都将由酒店根据宾客喜好全权代办。对于美利亚酒店集团而言,来到酒店的每一位宾客只需全情投入,享受旅程中的轻松愉悦。
巴厘岛美利亚酒店拥有多个主题餐厅和酒吧,丰富多彩的美食体验致力于为宾客提供独一无二的美食之旅。无论宾客的口味如何挑剔,酒店的5个餐厅和3家酒吧都有信心能够征服宾客的味蕾。日式餐厅Sakura,内设寿司吧和铁板烧桌位;临海而建的Sateria地中海餐厅提供西班牙经典美食及饕餮海鲜;Lotus餐厅提供具有美利亚特色的亚洲菜系;更有24小时营业的咖啡厅以满足宾客的需求。
Sateria地中海餐厅环境舒适,专为宾客提供纯正的地中海美食及和各类美酒。除了在餐厅内享用美食,宾客们也可在室外区域用餐,在畅享美食的同时欣赏花园内的荷花池美景和九重葛(一种热带植物)风姿。Sakura是一家原汁原味的日式餐厅,供应最新鲜的生鱼片和寿司,另有豪华的铁板烧套餐和单点菜单。餐厅除了大堂用餐区域,另设有榻榻米包房。精心设计的榻榻米包房为宾客提供了更为私密的尊享空间。Lotus亚洲花园式餐厅,它采用了传统的巴厘岛式建筑风格,整个屋顶用茅草铺设。餐厅环境轻松舒适,设有74个雅座。选择丰富的单点菜单囊括各式亚洲佳肴,此外更有每日特选菜式,为宾客呈现香料群岛的独特美食。Sateria全新的开放式沿海用餐区域,为宾客创造了更为惬意的用餐体验。宾客可以在崭新的露天甲板享用正餐的同时,感受空气中弥漫着的清新味道、聆听海浪的声声拍打,在翱翔海鸟的陪伴下,彻底放松。在巴厘岛美利亚酒店畅享不一般味蕾体验的同时,酒店也将不遗余力地为宾客献上融合了西班牙热情与巴厘岛特色的尊贵酒店服务。