万豪国际集团为姚基金举办慈善晚宴
筹得人民币四百六十七万元扶持中国贫困地区青少年

Marriott International Charity Gala Dinner in Support of Yao Foundation
Raises USD 673,510 for Underprivileged Chinese Youth
万豪国际集团华东区商业理事会为姚基金举办第六届年度慈善晚宴,与2018万豪慈善高尔夫赛共筹得人民币467万元以支持中国贫困地区儿童教育工作。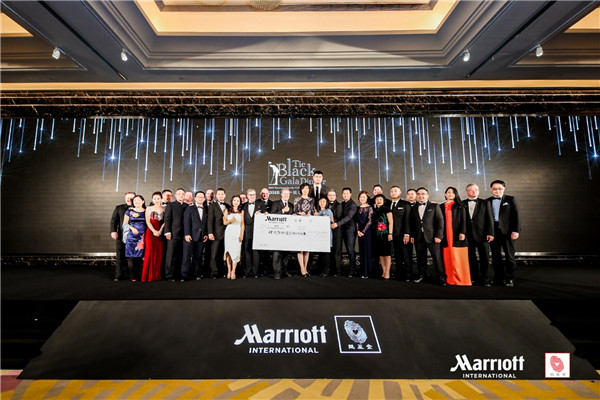 当晚门票销售和慈善拍卖的净收益将用于进一步建设万豪·姚基金希望小学,支持"姚基金希望小学篮球季"公益项目支持"姚基金希望小学篮球季"公益项目。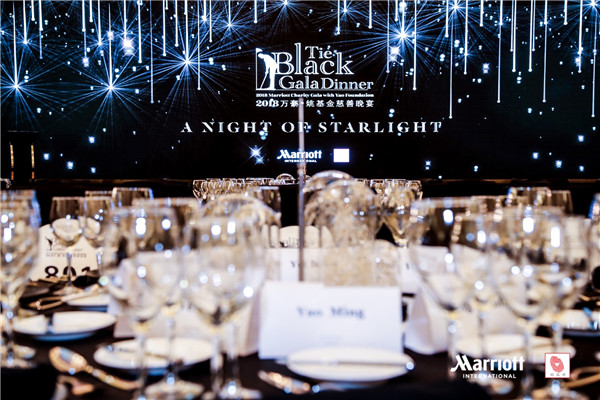 万豪国际集团认同姚基金所作出的重要社会贡献,自2013年一直大力支持其各种公益活动,包括重建中国贫困地区共七所希望小学。截至2017年底,万豪国际与姚基金合作的慈善共筹得人民币14,000,000元善款,期间完成了四所小学的重建项目,万豪国际先后支持了六届 "姚基金希望小学篮球季"。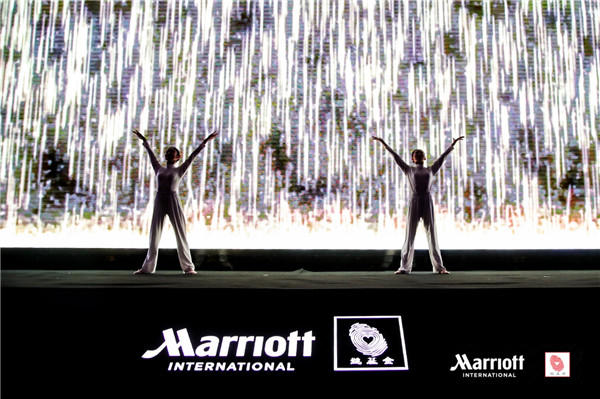 姚基金由前中国篮球运动员姚明发起,致力于通过体育"育人"提升乡村孩子的综合素质和人格健全,帮助他们在教育、健康等多方面全面发展。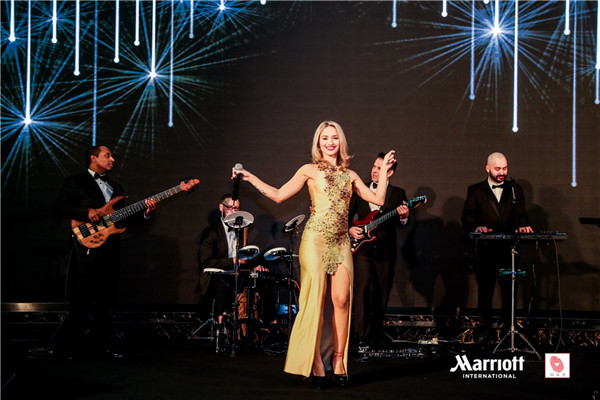 今年的晚宴在上海静安瑞吉酒店举行,邀请客人"探索光影魅力,共度星光璀璨之夜",晚宴由万豪国际中国华东区商业理事会主办,所有参与的酒店包括万豪国际集团旗下华东区107家酒店、覆盖24座城市、囊括18家品牌。约600名企业客人及个人赞助者出席晚宴,尽享万豪精英厨师团队携手缔造的佳宴。精彩纷呈的表演及众多慈善拍品将晚宴推向一轮又一轮高潮。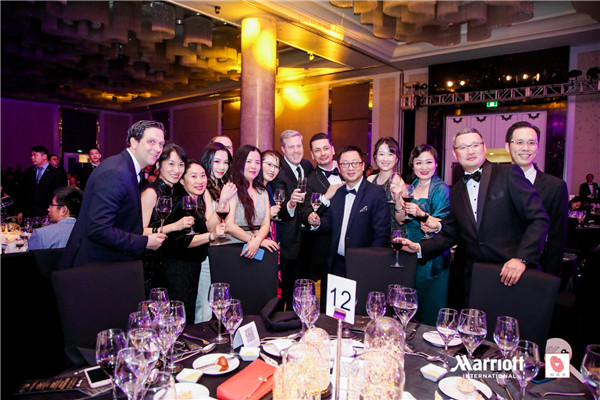 慈善晚宴上,万豪国际集团华东区理事会主席詹杰明对在场的来宾表达了热烈的欢迎及感谢,同时也呼吁现场的爱心人士慷慨解囊,他表示:"您的慷慨解囊,将影响那些孩子的一生。希望大家能够积极地参与我们今晚的现场拍卖活动。让我们联手一起支持姚基金,为中国农村偏远地区建立更多的希望小学,使更多的孩子能得到受到教育的机会。"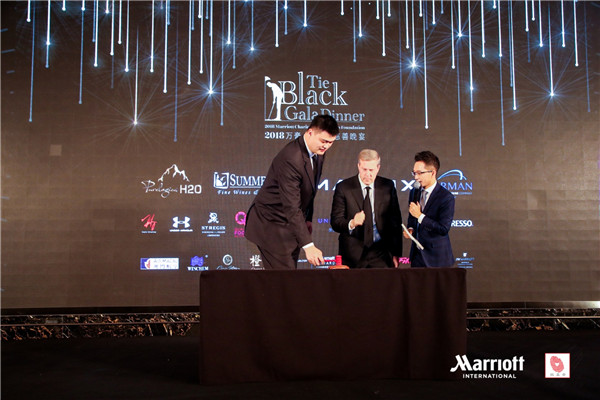 此外,万豪国际集团执行董事长兼董事会主席小比尔·马里奥特(J.W. Marriott, Jr.)也通过一条为晚宴特别录制的视频,向在席嘉宾、万豪员工及姚基金团队表达谢意。他表示:"我们已经建造了四所希望小学,另外三所也在紧密筹备中。这些学校不仅改变了贫困地区学生的生活,也促进了无数家庭和社区的发展。万豪承诺,要为青少年创造机遇、强化本地社区,为当地经济带来发展。"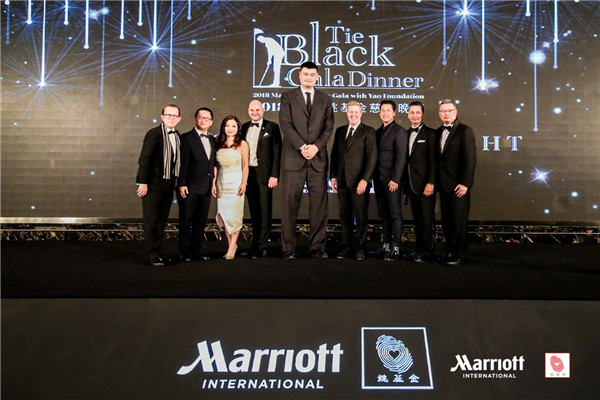 万豪国际集团亚太区总裁兼董事总经理施康瑞(Craig S. Smith)与姚明及来自希望小学的孩童们亲切互动,一同分享儿时梦想。同时,施康瑞先生与姚明先生也共同展望了未来万豪国际集团与姚基金之间的紧密合作。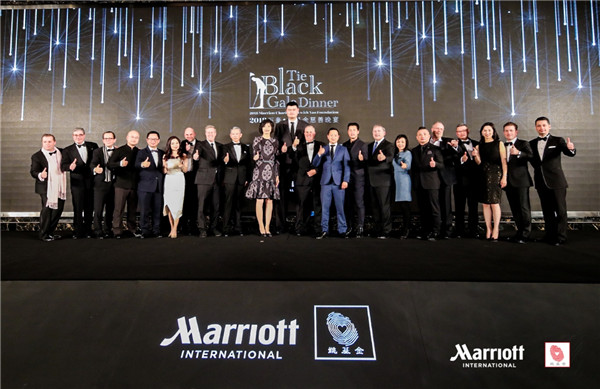 万豪国际全球文化官及商业理事会主席黛比哈里森女士与其丈夫也通过视频文件和大家分享了他们儿时的梦想,哈里森衷心地感谢姚基金对万豪国际的信任,也非常感谢万豪的员工积极改善社区环境。
姚基金叶莉理事长表示:"截至2018年,万豪国际集团已为姚基金捐款1400余万元,除了建成的四所希望小学,万豪国际集团还鼎力支持姚基金希望小学篮球赛季项目,该项目已覆盖25个省的500所乡村小学,逾92万人次青少年从中受益。"对于万豪国际集团在过去几年中对中国乡村体育、教育公益事业的支持表示由衷的感谢。
本次万豪·姚基金慈善晚宴还得到了长宁特殊职业技术学校的大力支持。这是一所针对随班就读结业和辅读学校毕业的智障学生开展初级职业技术教育的特教学校。晚宴现场,学生们也加入宴会服务的团队,以此奉献爱心。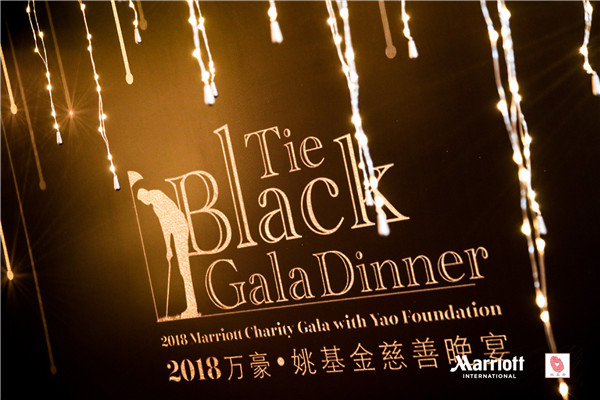 Marriott International East China Business Council hosted its sixth annual charity gala in support of Yao Foundation and raised in combination with the golf tournament earlier this year, a total of USD 673,510 to further support education projects for underprivileged children in rural China.
All net proceeds generated from ticket sales and the evening's charity auction will be used for the further development of Marriott-Yao Foundation Hope Primary Schools and to organize basketball seasons.
Marriott International recognizes the important work of the Yao Foundation and has supported it in community service programs since 2013, including the commitment of rebuilding seven Hope Primary Schools in unprivileged area of China. By the end of 2017, Marriott has raised a total of USD 2.1 million in supporting charity projects in collaboration with the Yao Foundation.
Established by the former basketball player Yao Ming, the Yao Foundation is dedicated to the development of Chinese youth through education, sport, health and self-esteem.
Themed "A Night of Starlight," the Gala was held at the St. Regis Shanghai Jingan – centrally located in the heart of Shanghai, where modern luxury presents in a new era and the event was hosted by 107 Marriott International hotels in East China Business Council across 24 cities covering 18 brands. About 600 attendees including corporate guests and individual sponsors enjoyed the evening of unexpected splendid live entertainment focusing on visual, trendy and fashionable concepts and a delightful dining experience crafted by the Marriott culinary team, presenting an exquisite selection of fine ingredients influenced by local flavours.
Benjamin Zahn, Chairman of Marriott East China Business Council delivered a warm welcome speech, expressing his sincere appreciation to the guests and encouraged guests to show their love during the event. He said "With your donations, sponsorships and hopefully very active participation in our silent and live auctions tonight, you can make a big impact in people's life and we all combined, can help the Yao Foundation to build more Project Hope schools in the rural regions of China."
During the 2018 gala dinner, J.W. Marriott, Jr., Executive Chairman and Chairman of the Board of Marriott International, sent his greetings video to express his gratitude to the guests, Marriott associates and Yao Foundation teams for their great support. He hoped all guests would enjoy the evening in The St. Regis Shanghai Jingan. He said: "There's now four Hope Schools and another three is on the way. These schools not just change the life of underprivileged children; they are also assisting families and communities. Marriott International is committed to create opportunities for talent young people, grow economies and strengthen the local communities".
Craig S. Smith, President and Managing Director of Marriott International Asia Pacific and Yao Ming interacted with children from hope school, sharing their dream in childhood. Both Mr. Smith and Mr. Yao shared their future plan for Yao Foundation and Marriott.
Ms. Debbie Harrison, Global Officer, Marriott Culture & Business Councils and Mr. Ronald Harrison, Marriott Global Officer of Design also sent their greetings video to share their dream in childhood and express appreciation to the Yao Foundation for their vision and to our associates who work so hard to improve the communities.
Ye Li, Chairwoman of the Board of Yao Foundation said: "Thanks to Marriott International, Inc. for its support to China's rural sports and education public welfare in the past few years. By 2018, Marriott International, Inc. has contributed more than 14 million yuan to Yao Foundation. In addition to the four Hope Primary Schools built, Marriott International, Inc. also strongly supports Yao Foundation Hope Primary School Basketball Season Project, which covers 500 rural primary schools in 25 provinces and benefits more than 920,000 teenagers." Ms. Ye also expressed her sincere thanks to Marriott International, Inc. for its support to China's rural sports and educational public welfare undertakings in the past few years.
The Gala was supported by Shanghai Changning Elementary Vocational School (CNCZ). Students with intellectual disabilities learn courses such as Cooking, Gardening, and House Keeping as well as master one or several professional skills. Some of them also joined the event as part of the service team to show their love.