JW Marriott Hotel Macau's Restaurants Unveil Summer Menus Designed to Enlighten Diners
澳门JW万豪酒店多家食府精心呈献清新美馔喜迎初夏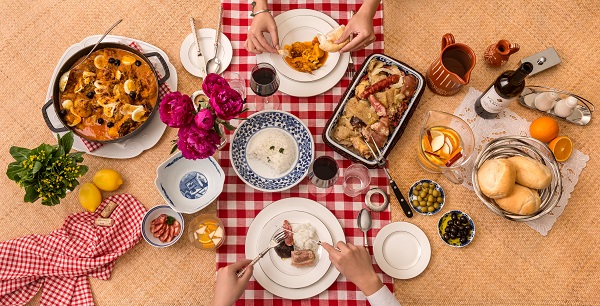 Spring is truly in the air, summer is fast approaching, and it's a perfect time to tantalize your taste buds with fresh flavors and savory delights. For a revitalizing seasonal dining experience, guests need look no further than the three dining destinations at the JW Marriott Hotel Macau. To celebrate the arrival of spring, Man Ho Chinese restaurant is charming health conscious diners' taste buds with an array of delightful fresh tofu dishes; Urban Kitchen will bring back last year's most popular Taste Of Tradition – Macanese Cuisine, showcasing the illustrious tale of Macanese food; and The Lounge is offering a signature Boston lobster dinner to please the palate.
From now to June 30, diners can indulge in a treasure of tofu flavors at Man Ho Chinese Restaurant with 10 exquisite, honed-to-perfection tofu dishes featuring the freshest seasonal ingredients that are masterfully prepared by Chinese Dish Executive Chef Wong Wing Kei and his unsurpassed Cantonese cooking skills. Enjoy dishes such as Steamed Tofu Cube stuffed with Shrimp, BBQ Pork and Fish Fillet, which transforms a simple dish into culinary magnificence by incorporating gourmet-grade shrimps, delicious Char Siu beef and fresh fish fillet into a bean curd parcel resembling a small lantern. Or, sample Deep-fried Bean Curd Roll with Seafood and Salty Egg Yolk – the perfect combination of seafood, salty egg yolk and tofu skin, both tender and rich. In addition, the Tofu Cuisine Set Dinner from Man Ho Chinese Restaurant showcases eight savory tofu dishes which are designed for the health conscious.
Meanwhile, JW Marriott Hotel Macau's Urban Kitchen is re-launching its popular "Taste of Tradition – Macanese Cuisine" from last year. Packed with an array of traditional Macanese food, it illustrates the 400-year tale of Macanese dishes. From now to June 30, unearth the wonderful mix of tastes and aromas behind true Macanese cuisine with over 10 sets of traditional Macanese food served during lunch and dinner, including the most renowned Macanese dishes Portuguese Chicken and Tacho, an evolved dish from Cozido. Tacho stems from Portuguese culture and is a fusion stew made with an assortment of Chinese and Western ingredients including cheese, black olives and croutons filled with crispy Capela. Tacho, Portuguese kitchen, Capela and Bacalhau Potato Balls will be served daily during the promotional period.
JW Marriott Hotel Macaualso takes guests on an enchanting culinary world tour with international cuisine. The Lounge is launching two bespoke lobster dinner sets with free flow of selected wines, beers and soft drinks highlighting fresh Boston lobster which will stimulate diners' taste buds. The Lounge provides a selection of steaks served with fresh salad, crispy fries and signature sauce. Diners can choose from rib-eye steak, sirloin steak, beef tenderloin and more, according to personal preference.
初夏将至,在这段春夏交替的日子里,最好以时令清新美馔,让味蕾感受无穷滋味,迎接清爽初夏。澳门JW万豪酒店的三家餐厅于即日起至6月特别推出多项时令美馔推广,其中"万豪中菜厅"以有益健康的豆腐入馔,精心炮制多款清新可口的豆腐菜肴,为讲求保健养生的美食爱好者带来健康美味的选择。"名厨都汇"再度呈献去年大受好评的传统澳门土生菜式,为宾客细说少为人知的澳门特色风味。"大堂酒廊"推出精选波士顿龙虾晚餐,让味蕾感受难以抗拒的鲜活滋味。
"万豪中菜厅"由即日起至6月30日期间,呈献逾10道精选豆腐菜式,包括"月影伴灯笼"、"金银豆腐卷"及"浓汤炖豆腐狮子头"等,每道菜式均由中菜行政总厨王永其师傅精心设计,卖相精致,严选新鲜食材,运用最精湛的粤式烹调技巧,创制出最独特的营养好滋味。其中,"月影伴灯笼"用料讲究,于朴实的豆卜中加入美味鲜虾、惹味叉烧及鲜味鱼柳,将各种食材放入豆卜,外形有如小巧的灯笼,别致有趣,令一道看似平凡的菜式变得色香味俱全。另一道金银豆腐卷,将海鲜、咸蛋黄与腐皮完美结合,营造出层次丰富的鲜味口感,让宾客回味无穷。
与此同时,澳门JW万豪酒店"名厨都汇"再度推出于去年大受欢迎的"品味传承-澳门土生菜",通过多款经典澳门土生菜,细说一段四百多年的土生菜历史。由即日起至6月30日,"名厨都汇"将于午膳及晚膳时段推出逾10道经典澳门土生菜佳肴,当中包括改良自葡萄牙炖菜(Cozido)的大杂烩(Tacho);以芝士、黑橄榄及脆面包粒,再铺上香脆烟肉的焗肉饼(Capela),以及最广为人知的澳门菜式葡国鸡。
澳门JW万豪酒店同时呈献环球美食,"大堂酒廊"由即日起至6月30日特别推出"香烤波士顿龙虾及薯条配蒜香香草酱"和"芝士白汁焗波士顿龙虾"两款精选龙虾晚餐,可品尝来自波士顿的新鲜空运龙虾及精选美酒无限畅饮,让味蕾感受难以抗拒的鲜活滋味。同时依然提供三款牛排晚餐,配以新鲜沙津、香脆薯条及精选酱汁。宾客可按个人口味选择包括肉眼牛排、西冷牛排及牛里内脊肉等多款牛排,与亲朋好友尽情享受滋味时光。