BISTROT B"A Theatrical Food Orchestra"ROSEWOOD BEIJING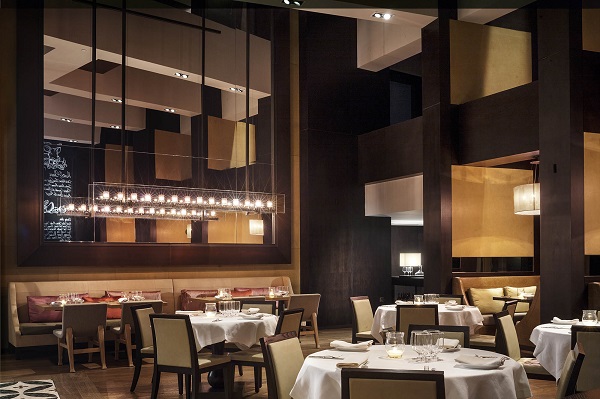 Dear Cherry,
Rosewood Beijing hotel is well known for the quality of its restaurants and it was time for me to revisit the creative culinary work of Jarrod Verbiak, Chef de Cuisine in the famous restaurant Bistrot B, with its motto "A Theatrical Food Orchestra". Once arrangements were made, I arrived early and stopped in the Bistrot Lounge for a drink before entering Bistrot B to do my restaurant review. Candy Li greeted me and brought me to my table, a nice booth with a lot of room for writing. Eagle Qiu, Team Leader, brought an ice bucket with a bottle of sparkling water by VOSS and poured a glass for me, and then left the menu for my review. Chef Jarrod came to see me with an Amuse Bouche of Herb Ricotta Cheese with Sesame Crackers and we decided to allow me to review the menu and make my own selections for dinner. I opened a bottle of 1421 Sauvignon Blanc and 1421 Carmenere, both 2015 Vintage from Chile, and I enjoyed discussing them with Didier Yang, the Sommelier for Rosewood Beijing. I sipped a cool glass of the Sauvignon Blanc while looking over the menu and thinking about all the available options, which I imagined would be delicious! Chef Jarrod and I discussed my preferred selections from the menu and we decided together on a sumptuous 5-course dinner that was a good representative sampling of the available menu options.
As Chef Jarrod took my order back to the big open kitchen in the middle of the dining room, I started on my Herb Ricotta Cheese with Sesame Crackers. I broke off a piece of the cracker and dipped it into the glass jar containing the Ricotta cheese blend made with olive oil and herbs de Provence, which are dried and mixed in house with fresh chives and parsley. The cheese was smooth with flavors enhanced by the herbs and the crackers were crispy with black and white sesame seeds imbedded in the crackers. The crackers were broken from a larger piece so they could fit inside the jar to dip into the cheese. It was a small but tasty starter that got me excited about the rest of the dinner to come. Eagle brought my bread, served on a wooden board with a copper pot of butter sprinkled with sea salt, and an attractive spreading knife. It was a nice presentation and the bread smelled great. It was a pre-sliced round loaf of freshly baked white bread with a crispy crust and a soft center. I really liked the sea-salted butter, rich and flavorful, when I spread it on the hot bread, which was mildly flavored and softly textured.
Having enjoyed the hot bread and butter with my cool Sauvignon Blanc, I waited patiently for my first course. Team Leader Elvin Zhi took my empty breadboard and prepared my table for the next dish, Roasted Lobster & Pumpkin Bisque. This was a pumpkin soup made with roasted lobster stock with big chunks of lobster and pumpkin in the soup and toasted pumpkin seeds sprinkled on top. It smelled great, and with my first spoonful I scooped a big chunk of lobster, starting off the taste experience with an explosion of delicious lobster flavor. My second spoonful included a cube of pumpkin for a burst of pumpkin flavor. Chef Jarrod explained to me that the soup was balanced between pumpkin and lobster flavors due to the mixing of pumpkin purée with lobster stock, and with the chunks of lobster meat and cubes of pumpkin equally distributed in the soup, the balance between the two flavors was delightful and the toasted pumpkin seeds added their unique flavor and texture to the mix. Next I tried pieces of the lobster and pumpkin together for the combined flavor experience. It has been a long time since I have enjoyed a proper lobster bisque and this pumpkin variation was an absolute delight! I liked the beautiful white wine with the soup, going very well with the lobster flavors, and I finished the glass while reflecting on the details of this excellent starting dish.
I did not wait long before my next course arrived, Cauliflower & Kale Salad, with Raisin and Curry Vinaigrette, delivered by Jonathan Ardoin, Operations Manager, who explained that the dish was made from fresh cauliflower and kale, thin slices of apple, cubes of pumpkin, raisins, chick peas, and pine nuts served with pumpkin curry vinaigrette dressing and black sea salt from Norway. The salad looked so fresh displayed in its white ceramic bowl. It was chilled and I tried a piece of the cauliflower first, coated in the house made vinaigrette. It was super fresh and a little crunchy. The kale was also very fresh with excellent flavor and texture while the apple slices and cubes of pumpkin added some sweetness. After finishing the cauliflower and apple slices, I mixed the kale with the pumpkin cubes, chick peas, raisins, and pine nuts for a good finish of interesting flavor combinations. There was a good balance between sweetness and acidity.
Anticipating my next course of Escargots en Cocotte, with Farm Egg, Black Truffle & Smoked Bacon, I switched to the bottle of 1421 Carmenere, a soft, medium bodied red wine with mild tannins. This dish arrived smelling marvelously in an oval shaped black cast iron pan by STAUB. I was stunned by its appearance and its ability to stimulate my appetite immediately based on looks and aroma alone. Chef Jarrod explained that this was an OEUF EN COCOTTE inspired classic country farmer preparation, baked with 3 cracked eggs, escargot, black truffle, sliced red potatoes, spinach, homemade bacon lardon, croutons, chives, and a little bit of grated gruyere cheese. This was so beautiful, with the egg white as the base in the black cast iron pan. Everything else was in or on top of the egg white including the 3 egg yokes, only slightly cooked. It was a splendid blend of interesting fresh ingredients so I broke the egg yokes and mixed it all together. The escargots were tender and flavorful and the croutons added crunchy texture. The bacon was sweet and the spinach tender and fresh. The potatoes, black truffle and chives tasted great when mixed with the hard egg white on the bottom of the pan and soft egg yoke on top. There was a wide range of textures and earthy flavors in this country farmer dish. It was fantastic, and made me feel like I was sitting by a big fireplace in a French Chateaux enjoying this fabulous meal with the owners. I worked my way through the entire family style serving leaving nothing but a little bit of the egg yoke that I could not get to stay on my fork. This dish was really excellent and could become habit forming, and I enjoyed it with the soft and fruity red wine. I poured another glass and relaxed while letting this big dish settle and I reflected on all the delicious flavors I had just experienced.
My next course was Dover Sole Meuniére, with French Butter & Capers. Chef Jarrod explained that in France, Meuniére means "in the style of the miller's wife". The fish fillets are coated with a little flour and pan roasted in French butter, accented with capers and fresh lemon. The acidity of the lemon and the brine of the caper balances with the butter and the grassiness of the fresh parsley added last. Some cauliflower, potatoes, and croutons are added to the dish to accompany the finely cooked fish. This was a super classic French dish cooked simply with skill by the Chefs at Bistrot B. The plate was beautifully arranged and it was another hearty country dish. A slice of lemon was included but I put it in my water glass because the butter sauce had the perfect amount of lemon and I did not want to disturb anything the Chefs did in preparing this dish. The fish was tender with great flavor enhanced by the French butter, lemon, and capers. I rubbed each piece in the rich butter sauce and savored every bite, as I did with the white potatoes, the purple potatoes, and the cauliflower. The croutons added their familiar crunchiness but they were flavor packed after absorbing the butter sauce. The generous topping of capers and fresh herbs took this dish over the top as a classic, full flavored, elegant French preparation. It was perfect! I needed a little rest after this so I slowly finished my glass of Sauvignon Blanc that I had returned to for this fabulous fish course.
My next and final course was dessert, Crêpes Suzette, one of my all time French favorites! Chef Jarrod delivered the copper pan and poured some flaming Grand Marnier over the crêpes from a small copper pot. The flambé was a nice visual touch and added good flavors from the burning orange flavored brandy. 4 crêpes were folded into triangles in the pan and on top were pieces of fresh orange, shaved almonds, melted caramel, orange fresh and candied zest, and fresh whipped cream was placed in a cross between the crêpes to blend with the highly flavored sauce. The taste was sweet with lots of orange flavors in the sauce and caramelized on top of the crêpes as a result of the Grand Marnier flambé. The crêpes were tender and soft, absorbing the sauce, and the whipped cream blended with the rest of the sauce in the pan for a rich additive to the already thick orange flavored caramel sauce, with toasted shaved almonds adding their own flavor and texture. This was a stunning way to finish a wonderful dinner, and although this dessert is designed for more than one person, I finished all of it alone because it was just too good to leave any of it behind. I relaxed with my glass of Carmenere to allow the wonderful flavors of my Crêpes Suzette to mingle in my memory. This, combined with all my other wonderful compositions, truly made my dining experience "A Theatrical Food Orchestra". Finally, I noticed that I was the last guest seated so I hastily thanked the excellent service team in Bistrot B for taking such good care of me, and I drifted out into the night.
SANTÉ!
My Best as Always,
Randy